An unexpectedly intense chill has given natural gas bulls a chance to survive this week and possibly next with their long positions, as heating demand for the fuel rises in what's been one of the mildest winters in years.
A sudden temperature drop in recent days — and the possibility of more frigid weather in the coming week-and-a-half — has put a floor under gas futures that plumbed 2016 lows on the New York Mercantile Exchange's Henry Hub just on Tuesday.
The near 5% rebound over the last two sessions was the most positive action seen in natural gas since Christmas 2019, when the weather in key gas-fired heating zones in the United States began turning unusually mild.
Anything Other Than Mild Weather Is "Welcome"
"The cold change to weather forecasts has given the market some hope for February heating demand beyond the current week," said Dan Myers of Houston-based gas risk consultancy Gelber & Associates. "At these already low prices, anything more than mild weather is a welcome sign."
Scott Shelton, energy futures broker at ICAP in Durham, North Carolina, concurred. "Basically, there are cooler adjustments in temps for the Feb. 19-22 period, although we could still end the month warmer than normal," said Shelton. "But the positive price action we've got makes me wonder if the market thinks that NG weather bearishness is already baked into the price."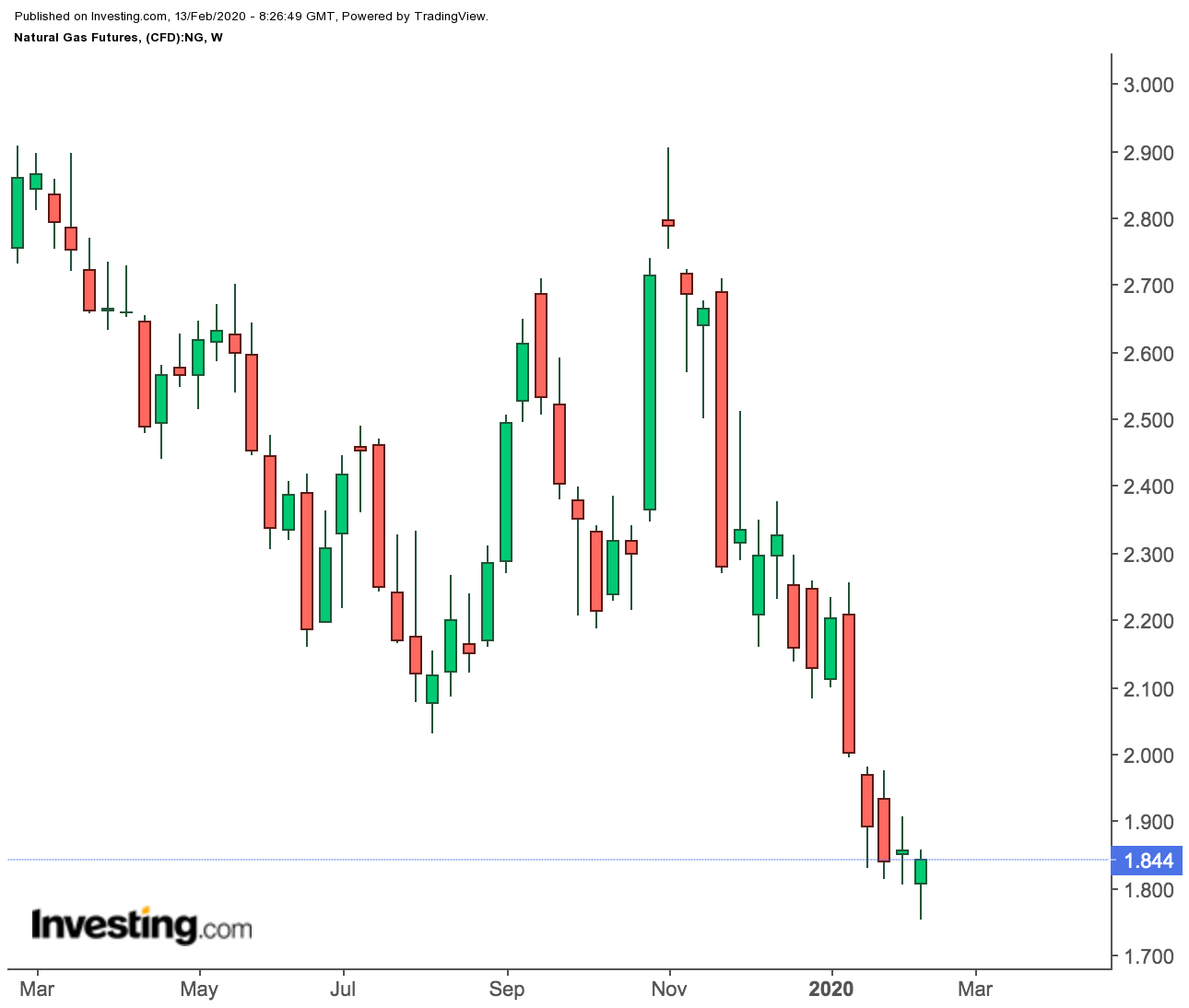 Natural Gas Futures Weekly Prices
Gas consumption data for the week ended Feb. 7, due at 10:30 AM ET on Thursday, is still expected to show a lackluster drawdown of 110 billion cubic feet from storage, versus the previous week's 137 bcf and the five-year (2015-2019) average of 131 bcf.
In Wednesday's session, Henry Hub's front-month gas contract settled at $1.84 per million British thermal units, well below the $2 per mmBtu minimum typical for a peak winter month. Yet that settlement was nearly 10 cents, or 5%, above the near four-year low of $1.75 hit on Tuesday.
Gas Withdrawals Seen Rising Next 2 Weeks
"Coming withdrawal expectations will add about 30 bcf to demand, due to the brief shot of colder-than-normal temperatures in the six-to-ten day period," Myers said. He added:
"Although HDDs over the next two weeks still remain about 7% below normal, the upward forecast has prevented a further price collapse for now."
HDDs, or heating degree days, measure the number of degrees a day's average temperature is below 65 degrees Fahrenheit (18 Celsius) and are used to estimate demand to heat homes and businesses.
Last week's was still warmer than normal, with 156 HDDs compared with a 30-year average of 191 HDDs for the period.
An expected spike in HDDs over the next two weeks could result in storage withdrawals of 150 bcf and 146 bcf respectively, forecasts show.
"Although these pulls will be relatively bullish compared to average, they won't hold up when measured against last year's impressive February cold," Myers said.
"Additionally, warmer than normal temperatures are still expected to curb the last withdrawal of February to 90 bcf, smaller than both last year and the five-year average."
In its Short-Term Energy Outlook for February released on Tuesday, the U.S. Energy Information Administration said it expected Henry Hub prices to recover in the second quarter to reach $2.21 per mmBtu.
Caution Prevails in the Longer Term
But some analysts are advising against having a too far out bullish view of gas.
"A surging year-over-year storage surplus–reaching nearly 800 bcf by mid-March — is likely to maintain downward pressure on natural gas," Andrew Weissman of EBW Analytics warned in an analysis.
Weissman said a retest of the 2016 lows of $1.611 per mmBtu appeared increasingly likely in the coming weeks.
"From a long-term fundamental perspective, however, gas prices are nearing an equilibrium state, with the November storage trajectory falling below 3,700 bcf," he wrote.
"Any further declines are likely to provide fodder for an early summer rebound. Very weak global natural gas prices may constrain any possible domestic gas price recovery–likely maintaining sub-$2.00/MMBtu rates for longer than many anticipate."