It looked dismal for the better part of the last six weeks, after its finish last year on top of the soft commodities heap. Now, weather woes in top grower Brazil are helping arabica coffee rally again, despite demand tumbling due to China's virus epidemic that's shut thousands of cafes.
As of Thursday, New York-traded futures of arabica were up for a sixth day in a row, gaining almost 7%. It was the longest winning streak for the market in 2- 1/2 years, with the previous run occurring during the Sept. 6-13 stretch in 2017.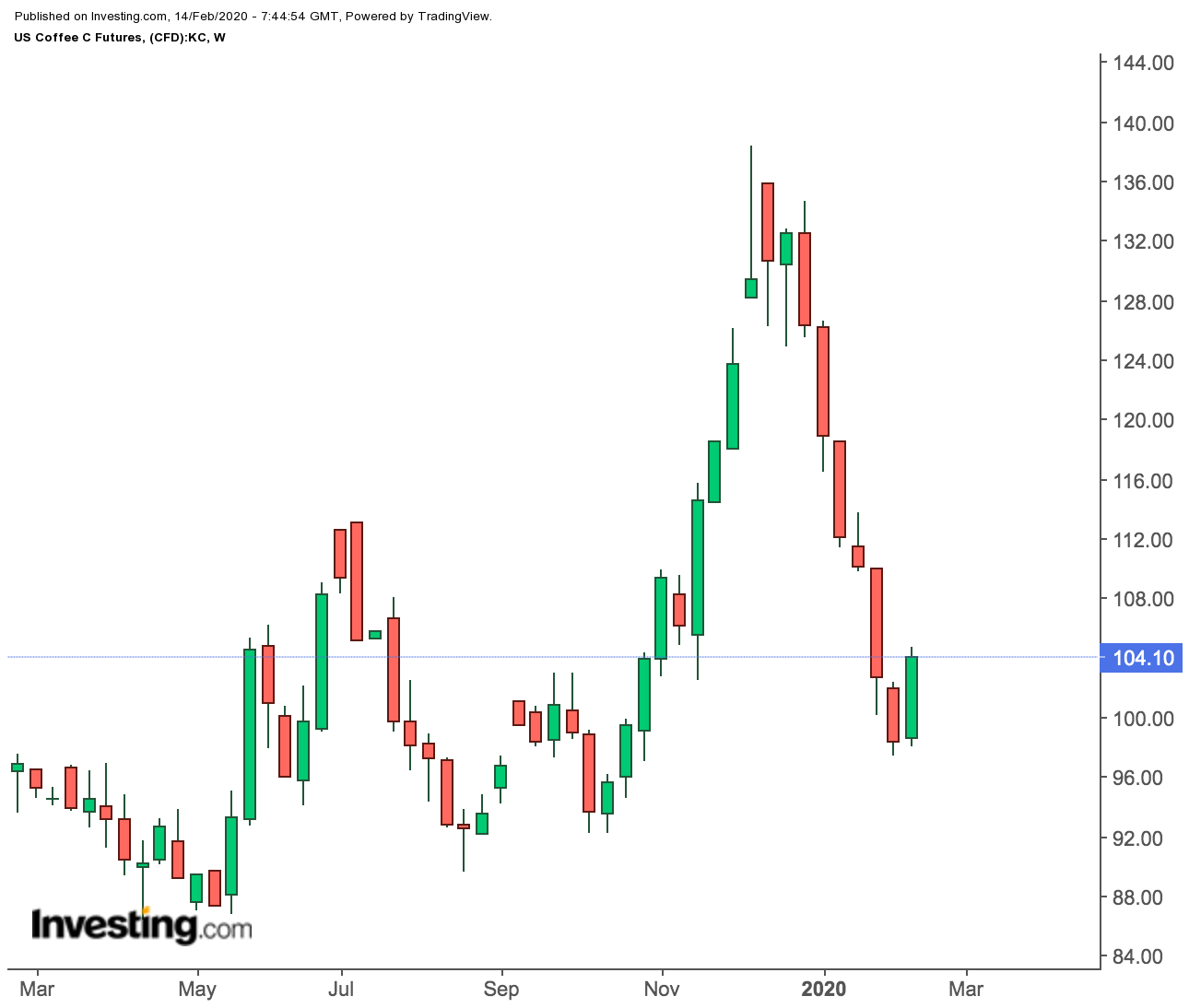 U.S. Coffee Futures Weekly Price Chart
That's telling analysts that something's brewing with arabica, the world's most sought-after coffee beans.
Mild Strength
"Coffee futures prices are on the rise from a fundamental shift in supply news that we may have a near term tightening of supplies," Eric Scoles, commodities strategist at Chicago's RJO Futures wrote in a commentary on Thursday.
"This indication comes well timed as there has been some mild strength returning to the coffee market after finally finding support around the 98 cent price level."
After a 26% gain in 2019, arabica lost almost 21% in one month alone — January. Investing.com data showed that to be the worst monthly loss since March 2008, or nearly 12 years. But some analysts note that even in the sell-off, arabica prices themselves didn't tank as much, with the month's low just at $1.0015 per pound versus the 2019 bottom of 92.20 cents.
At Thursday's settlement, arabica was back at above $1.04 — well above the 98 cent support cited by Scoles. It also hit a two-week high of $1.0465 intraday.
More Steam Likely
"If coffee can hold its strength and close above resistance, it is likely we can see a rally with $1.06 being the next point of resistance and $1.1250 being the longer-term target," Scoles said.
The upside was possible if the near-term supply threat out of Brazil was sustained, the RJO Futures strategist added.
Scoles, however, warned that those looking to be long coffee at this point should be cautious not to overstay their welcome. "This could be a short-term move, although there is strong potential for more. Can coffee become a bull market again? You need to stay tuned to find out."
And what are the challenges to arabica?
China, for sure, is one, and possibly the biggest.
Starbucks (NASDAQ:SBUX) and China Stores
"The coronavirus is reducing coffee demand in China where many coffee shops are closed," said Mike Seery at Seery Futures, a commodities investors' advisory in Plainfield, Illinois. He said, in a note issued on Monday:
"However, I do believe prices are in a bottoming-out pattern while looking cheap."
In one of the clearest signs of demand destruction in coffee, Seattle-based Starbucks (NASDAQ:SBUX), one of the world's biggest consumers of arabica, said the Covid-19 breakout forced the chain to close more than half of its stores in China, where it operated 4,292 outlets in all.
Like Scoles, Seery advocates patience for wanna-be arabica longs.
"The breakout has to be at least a 4 week high," Seery wrote. "It will be still several more weeks before we would be involved in a bullish position as prices are still hovering right near a 15-year low, which is astonishing in my opinion."