Winter 2019/20 might not be the worst in years, at least it's not as warm as winter 2011/12. This week's swing from south to north in natural gas prices, as a large part of America turned chillier than thought, indicates that much.
Since Friday's close, the near 7% gain in New York-traded gas futures has given hope to those long the market and crushed by its earlier fall to four-year lows.
Yet, the market's inability — as of Wednesday — to breach $2 pricing, often seen as the gold standard for the cold season, raises questions on how strong a close to the winter we might have.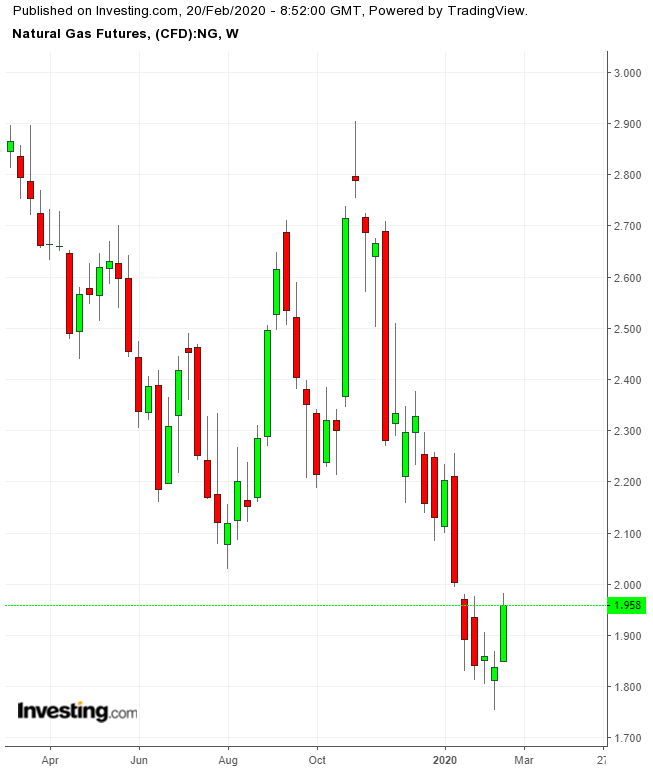 NatGas Weekly TTM
Front-month gas on the New York Mercantile Exchange's Henry Hub settled on Wednesday at $1.96 per million metric British thermal units, after reaching a session peak at $1.98 per mmBtu. While it narrowly missed testing the $2 mark, it was still a dramatic recovery from the 2016 lows of $1.75 hit a week earlier.
Even In 2011/12, The Market Stayed Above $2
The December 2011-February 2012 winter was the fourth warmest on record, with only nine of the 48 contiguous U.S. states experiencing "near-normal cold" between end-December and end-March. Even then, Henry Hub's front-month only got down to a low of $2.231 in January that winter.
"Although the cold weather pattern has held together lately … the $2-level remains a point of significant resistance," said Dan Myers, analyst at Gelber & Associates, a gas risk consultancy in Houston. He said colder-than-normal temperatures predicted for late February into early March were reminiscent of last year's pattern, "and will eat into the storage surplus for natural gas before the end of the season."
Myers adds:
"Given current forecasts, each of the next four withdrawals — including last week — are expected to be larger than the five-year average and not far behind last year's impressive, late-season demand surge."
But he also says there's no certainty the cold pattern will last as forecast, and deliver the kind of corresponding draw of gas from storage as expected.
Latest Draw Number Seen At Around 150 BCF
The consensus among analysts is that U.S. gas inventories in storage fell by 147 billion cubic feet during the week ended Feb. 14 versus the 115 billion draw for the previous week. The U.S. Energy Information Administration's weekly supply-demand data for gas, due at 10:30 AM ET Thursday, will show how accurate that forecast is.
Myers himself predicts an above-normal draw of 154 bcf for last week. "Any variation above or below this mark that indicates shifts in the fundamental balance will lead to additional volatile trading in coming days," he said.
Most analysts readings show a blast of cold — not unlike that of the past week — descending on the U.S. East Coast and other gas-fired heating regions between now and the next 10 days.
"In the 11-15 day period, the new run suggests that the cold will linger in the eastern U.S. for just a day or two before temperatures recover," said Dominick Chirichella of the Energy Management Institute in New York.
"If correct, after much below normal temperatures to begin the period, temperatures would warm up and most locations from the Plains eastward could see a couple of days with above to much above normal temperatures."
Bret Walts, meteorologist at BAMWX, concurs with that.
Weather Seen Supportive, But Not For Long
"Following some notable warmer than average weather later this weekend and the first half of next week for the Eastern U.S., we do look to see a decent shot of cooler air that will spread across the country and spike heating demand into late next week," Walts said.
"We do feel reasonably confident on this potential and a stretch of at least 5 days of above-normal heating demand. The coolest air relative to normal will settle across the southern U.S. However, as things stand now, the further into March we go, it seems likely the pattern warms back up again."
Scott Shelton, energy futures broker at ICAP in Durham, North Carolina, is in the pessimistic camp, warning that the current chill is the result of a ridge-based cold, which tends to bring warmer and drier weather toward the end.
"Keep in mind that "ridge" based optimism on cold weather has failed miserably this year!" Shelton said in a note Wednesday.
He also voiced his skepticism on market chatter that gas production could slow from current record highs in the coming months.
"On the more medium-term side, I continually hear that production growth for summer 2020 and all of 2020 are being revised lower," Shelton wrote. "That's the concept for higher prices, but I am an old NG guy and still wake up at night wondering why I fell for the lower production story about 4 times in the last 10 years."