In Aesop's fable, the satyr, or protagonist, declares he cannot trust a man who blows hot (to warm his hands) and cold (to cool his food) with the same breath.
Natural gas bulls might find that lesson in Greek mythology sobering as the weather deceives them again, with forecasts that have turned warm so soon after last week's cold.
As market participants await the U.S. government's weekly gas dataset due at 10:30 AM ET (15:30 GMT), the consensus from Investing.com's analysts is that utilities across the country pulled 151 billion cubic feet from storage last week to provide heating during a particularly freezing spell.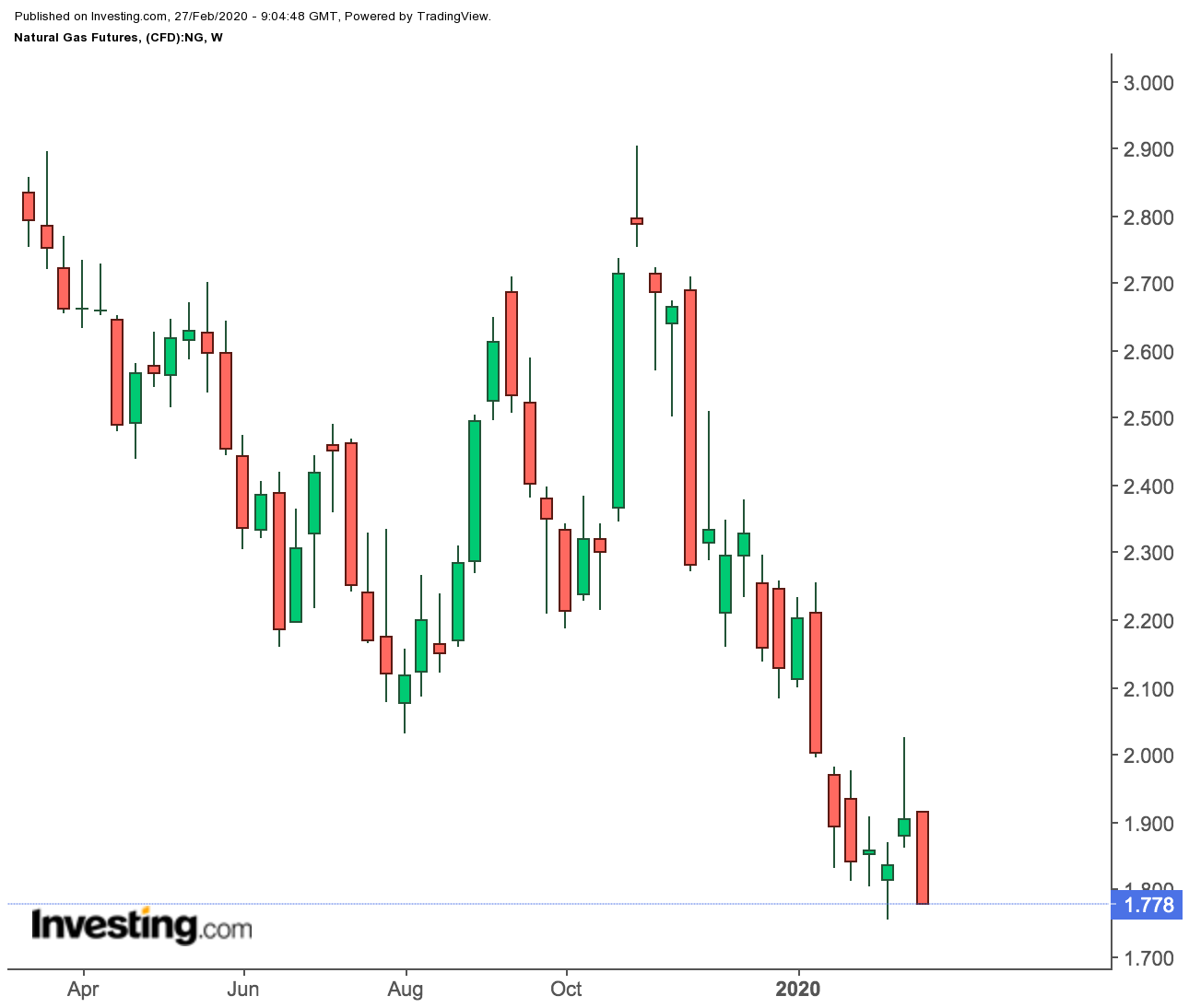 Natural Gas Futures Weekly Price Chart
Big Weekly Draw Coming Up
If true, it would be the biggest draw from storage since the 201 bcf that utilities burned for power and heat generation during the final week of January that coincided with another icy blast.
The 151 bcf forecast for last week will also be higher than the average burn of 122 bcf seen over a five-year period for the week ended Feb. 21.
Yet it will be lower than the 167 bcf drawn during the same week a year ago.
More importantly, warming trends in the weather suggest that last week's draw, as well as this week's, could be among the last big ones in triple digits before the cold season wraps up a month from now.
End-Season Inventory Spike Certain
"At this point in the season, the level of coming cold is not enough to bully storage and prevent it from ending the season at a surplus," said Dan Myers, analyst at Gelber & Associates, a gas risk consultancy in Houston.
And what exactly could that end-season surplus be?
According to an outlook released earlier this week by the U.S. Energy Information Administration, gas in storage is expected to end the 2019-20 winter heating season at 1.935 bcf, with 12% more inventory than the previous five-year average.
The EIA also forecasts that gas in storage will hit record highs by end-October as a result of the combination of a mild winter and unbridled output in the fuel.
This raises the question of what impact that mild weather and higher storage projections will have on gas prices.
Prices Point To New 2016 Lows
As of Wednesday, the March gas contract on the New York Mercantile Exchange's Henry Hub managed to cling to the $1.80 support level before expiry.
But April futures, the new gas benchmark from Thursday, has already lunged under the $1.80 handle and could bring the market even lower to 2016 lows if it snaps the $1.752 trough set on Feb. 11.
"The winter trade for gas looks set to return to four-year lows," Myers said.
Could the weather get better for gas bulls?
Not much of a chance of that, says Dominick Chirichella, director of risk and trading at the Energy Management Institute in New York.
"Temperatures should start the 11-15 day period near to somewhat below normal across the Central/Eastern U.S. before warming up significantly later in the period," said Chirichella.
From Weather To LNG Cargoes, No Escape For Gas Bulls
While temperatures will be "seasonable" in the West, weather patterns elsewhere were volatile, coming in cooler at first and much warmer later in the Central/East.
To complicate matters, readings on the GEFS — or Global Ensemble Forecast System made up of 21 separate forecasts — were colder compared to the ECMWF — or European Centre for Medium-Range Weather Forecasts.
"Given how this winter has trended, betting on the warmer end of guidance is probably going to be the smart money," said Chirichella. "This still looks to springboard into a spring-like 16-30 day period."
And it's not just the weather that's hurting the take up of U.S. gas.
The coronavirus crisis that has crippled much of China's energy demand could also hit deliveries of U.S. LNG — or liquefied natural gas — cargoes to Chinese buyers.
"Further having a negative impact on the market is the potential for a back-up of LNG cargoes from the U.S. earmarked for China," said Myers.
"If the main manufacturing cities in China remain in quarantine/slowdown demand for LNG will remain low."